The Data
IRIS Leadership
Southwest Organizing Project
Community Overview
The Southwest System of Care (SWSOC) network, built through the Southwest Organizing Project (SWOP), uses a community organizing model of relationship building to bring together mental health, healthcare, and social service providers with schools, after-school providers, youth leadership development programs, and others.  Through community coordination and collaboration, the SWSOC network seeks to meet the holistic needs and build on the assets of the communities' young people and their families.  
SWSOC is based in six neighborhood schools across the southwest side of Chicago. Each school is home to one or more Community Navigator who connects youth, families, and community members to the resources they need to be successful. 
IRIS Network
SWSOC partners began using IRIS in September 2019 to coordinate referrals with the goal of closing referral loops to ensure families receive the care they seek. Network leaders use IRIS data to understand existing referral connections, inform the need for additional partners or supports in the community, and support process adjustments among partners to improve referral outcomes. 
The network map below represents referral connections between partners since launch, with larger circles and arrows representing more referrals. During the first 20 months of IRIS use, 127 referral connections between partners have resulted in more than 1700 referrals.  Material needs such as food and clothing have been the most common reason for referrals followed by housing assistance and public benefits support.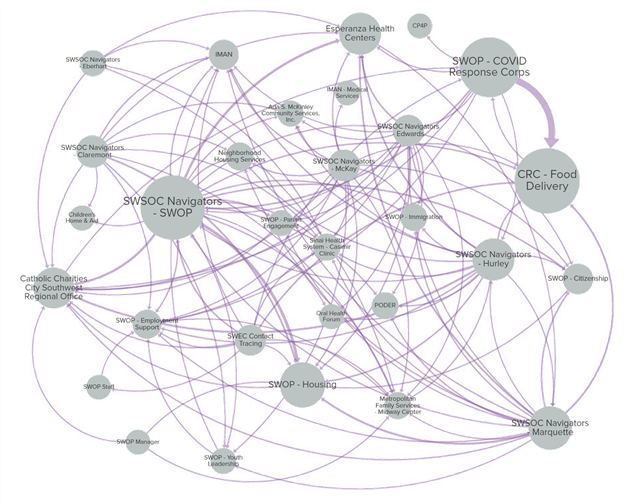 In December 2020, as part of community COVID-19 response efforts, SWSOC implemented a referral process for connecting families and individuals who are food insecure and are unable to travel to local pantries due to isolation and/or quarantine to food delivery services. Over the last 5 months, more than 500 referrals have been made for food delivery across network partners with 92% of families referred ultimately being connected with this service.  
Learn More
Learn more about SWSOC and their IRIS network at https://www.swsoc.org/